What Not to Wear on a First Date
You only get one chance to make a first impression!
A first date can make or break a relationship. (Or should I say a "could be" relationship?) And while you're a fabulous woman just the way you are, the truth is that making a good first impression with a new guy is important. Not just with your attitude and behavior, but also with your appearance.
Now listen. I'm not saying you should dress like someone that you're not. You should absolutely stay true to who you are, but there are still some guidelines to follow so that your date can focus more on you and less on what you're wearing.

These are the things to avoid when putting together your first date look:
Anything White
There's nothing wrong with white, in a general sense. But for a first date, it can be a disaster waiting to happen—especially if the date will involve food or drinks. Can you imagine if you spilled wine on your white top? Or dropped mustard on your dress? Stick to "safer" colors, so you don't put yourself at risk of unnecessary embarrassment.

A Low-Cut Top
Giiiirl, I know you've got a nice rack and you want to show it off. But the first date is not the time to do it! Until a man really gets to know you, he doesn't deserve to see parts of you that are special, sacred and sexy (even though all of you is special, sacred and sexy). That doesn't mean you should cover up completely. Just keep it classy and leave the guy wondering what's underneath.

A Mini Skirt
Yes, your legs are ah.maz.ing. But again, save those for date number three (or four, or five...) until your dude has earned seeing them entirely. You can still show off your legs with a skirt, but keep it at a length that doesn't give off the impression you're only good for a good time. Catch my drift?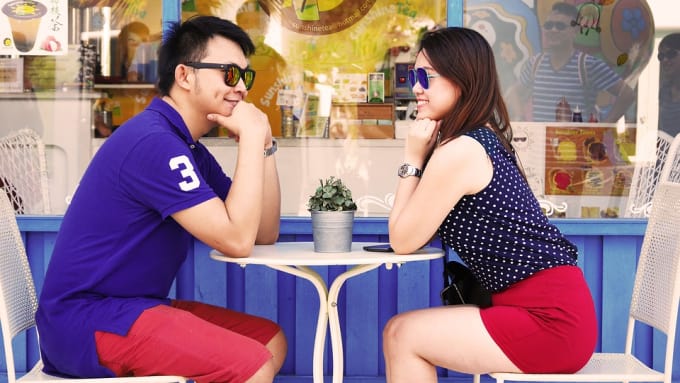 Heavy Makeup
Why do you need to cake on the makeup? Don't you know you're totally gorgeous? Sure, you can wear some to enhance your natural features. But don't put so much on that you look like a totally different woman. You have a lot to offer, and there's no reason to hide it behind layers of makeup products.

Anything Sheer
On a first date, no man needs to see through you—literally. Keep him guessing and wanting more by wearing pieces that aren't sheer. Save those sheer pieces for the bedroom, once you've established a relationship with the guy. The one exception to this is if you're wearing something sheer over another non-sheer piece.

Sweatpants
Because, duh. They will not impress anyone. Unless your first date is going to be a walk through the park in winter (even then it's a questionable choice), absolutely do not wear sweatpants. I know it can be tempting since they are so comfortable, but sweatpants are something you should wear after you're married. For like, ten years. While you're also rocking a messy bun and dirty t-shirt.

So what should you wear on a first date? An outfit that accentuates your best features without exposing too much skin. Think a fitted-dress with a pair of cute heels. Or dark, wash jeans and a trendy top. If your date is going to be outdoors, go for athletic wear that hugs your body while keeping your best "assets" mostly covered. The key is to show off your womanly figure without giving too much away.
Express your individual style while embracing your true-self. Now go rock that first date outfit like it's your job.
For more fashion and beauty tips, head over to The Style Spectrum.